Technovate Translations Free Sample Guarantee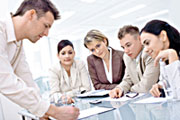 At Technovate Translations, our more than 3,000 technical translators take great pride in the work they perform. We offer translations for every type of document in more than 200 languages, and we guarantee that your translation will be fluid, accurate, and on time every time you place an order with us.
We service Fortune 500 to small business
and deliver on time and budget!
We want to show you what a Technovate translated document can do for you by offering every new customer a free sample of our work. New customers with translation projects greater than 750 words can receive the first manuscript page (250 words) of their project for FREE with no obligation to purchase any additional translation service or to complete the translation with us.
If you're happy with your present provider… you'll find we're better and cheaper!
We are confident that you will be thrilled with the translation you receive because we work with only the best translators from around the world. Our translators are native speakers of the languages they translate into, and our team of translators has been carefully selected to include translators with a wide range of academic and professional backgrounds, ensuring that our experts have the skills and knowledge to translate every type of document imaginable.
We can translate any document of any size. We specialize in corporate, marketing, legal, medical, technical and personal translations, including the most complex and difficult projects.
To receive your FREE sample, just fill out a quote request, and we'll translate the first page of your document ABSOLUTELY FREE. We know you'll be pleased with the results.
Fill out our online form or call us at 1-800-736-7764 today