Court Case Translation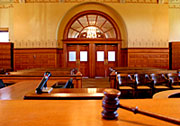 Legal documents require highly specialized translations because, as every lawyer understands, these documents must be translated accurately in order to be used in court. Technovate Translations provides high quality translations of legal documents, including depositions, documents, deeds, and other papers. We are the translation company of choice for law firms around the world and have worked on many complex case documents. Technovate Translations is known for the ability to process important documents with unparalleled accuracy on the tightest of deadlines.
At Technovate Translations, we understand that in the world of law a single mistranslated word can have powerful and profound consequences on the way each side in a negotiation or court case understands key documents and thus key facts about the issues being litigated. That's why we deliver the highest quality legal translation services to ensure that your documents are always translated in the most accurate and effective way so that each side has the same understanding of the meaning of the documents.
In a multicultural society, lawyers come across increasing numbers of clients and witnesses who speak another language. As a result of globalization, lawyers increasingly need to deal with documents, experts, and witnesses from around the world. In officially multilingual jurisdictions like Canada, document translation isn't a luxury but a necessity. As a result, the need for legal translation has never been greaterónor has the variety of documents, testimony, affidavits, evidence, and other types of information that needs expert translation for today's legal environment.
We work hard to ensure that we offer translation services to meet every lawyer's needs. Technovate Translations employs only certified translators with extensive experience translating in the legal field, covering more than 100 languages, both common and obscure. This means that we offer among the most comprehensive linguistic translations services in the translation industry so we can provide you with the support you need no matter what language you need documents translated into or out of.
Our handpicked certified translators have a wealth of experience and deliver only the best in translation. We ensure that all our translators speak the language they translate into as their first language to guarantee the most accurate translation for you every time. We understand that legal translations require a type of linguistic precision that necessitates extensive and comprehensive knowledge of the language being translated. Our translators are familiar with the subtleties and nuances of the languages they translate, including specific legal terminology, and are able to provide the most accurate translations that are specifically designed to meet the most exacting legal needs.
To assure our legal translations always meet the strictest requirements, we utilize a quality control system whereby each translation is reviewed by a second expert translator to ensure that the translation is accurate, fluid, and meets all of the client's requirements and needs. Our unparalleled accuracy and speed of translation make a Technovate Translation a must for all your legal document translation needs.